The first four are from a private show we ran in the Dolphin Square hotel in London in September 1990.  Besides myself there was Dick Boire, Roger Lavallee and Jack Connolly.
This exhibit was run at the same time as a World Meteorological Organization (WMO) meeting in London.  The meeting itself was limited to delegates to the WMO delegates.  Jack still carried some diplomatic credentials so he would go into the meeting at breaks and hand out invitations to the delegates.  For three days in a row he would pick a bunch to come over to the hotel in a bus we hired for lunch and a demo.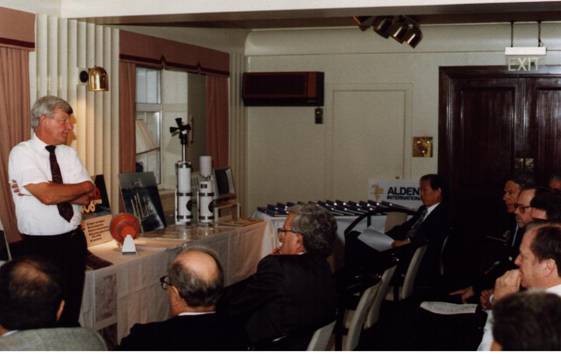 Sitting:
Front row:  ???,  Jacques Munier (France),  Luiz De Guzman(Spain), C.E. Suh (Korea)
Second row: hair, Roberto Arieira (Brazil), ???, David Scales (UK). ???, ???
We also invited all of the Alden International reps and distributors from around the world to attend a sales meeting with some minor training.  That was their excuse anyway. 
The hotel occupied a full London block and was mostly residential apartments.  Part of the units in the front of the building were rented out as a hotel.  There was a small restaurant and a bar on the first floor.
One day as Roger and I were riding the elevator down to our "exhibit" room on the second floor, there was an American couple already on the elevator.  The women was having a fit over not being able to use any of her hair appliances because of the 220V and the UK plugs.  Roger had them wait on the second floor stop with me while he went and grabbed a spare 220 to 110 transformer that we had for our equipment.  Only weighed about 20 pounds and would probably run everything she owned at one time.
My wife and I traveled to England and France for our 25th anniversary in 1999.  I used an internet booking agency to get hotels.  Where did we stay in London?  That's right, the Dolphin Square Hotel.  Completely refurbished since the AI trip.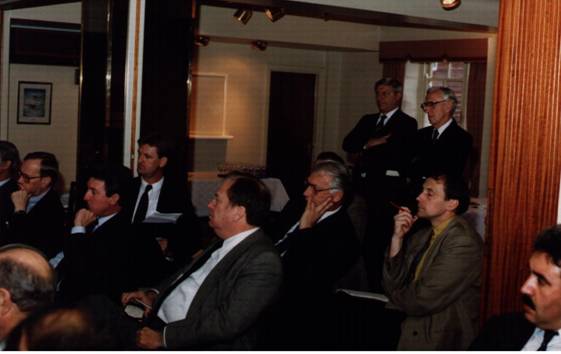 Standing:  Roger Lavallee and Jack Connolly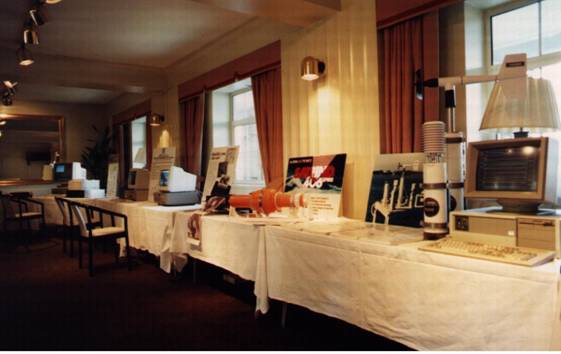 The equipment display.  MDD,  GOES?, WAFS/Star4?, 9315CTP, EPIRB and IMET.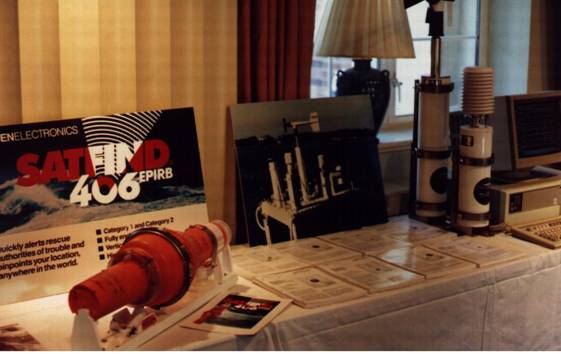 More of the London display, EPIRB and IMET meteorological sensor system.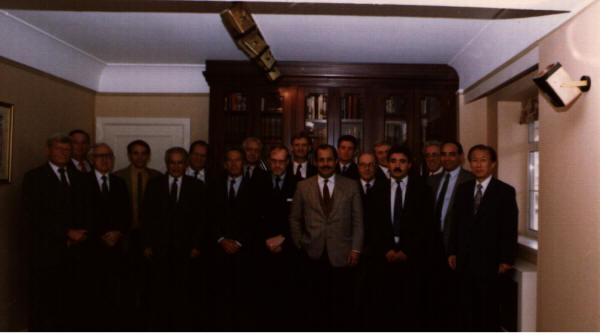 Reps in London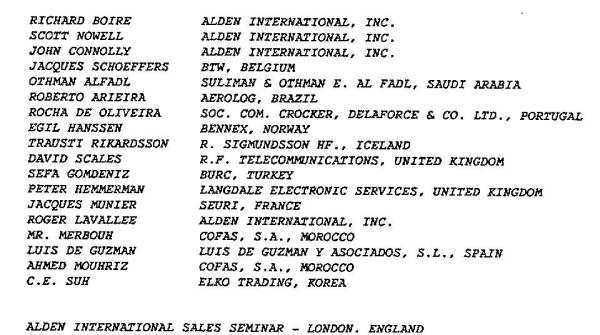 The next three are from Meteohydex 91 in Geneva.  I know Walt Lottes and Don Hall were there.  I can not remember if Dick Boire was on that trip on not.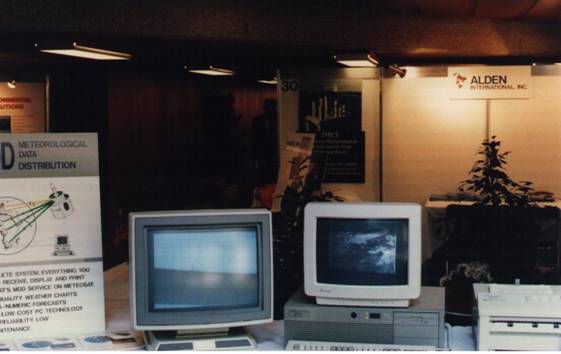 Walt Lottes with a customer.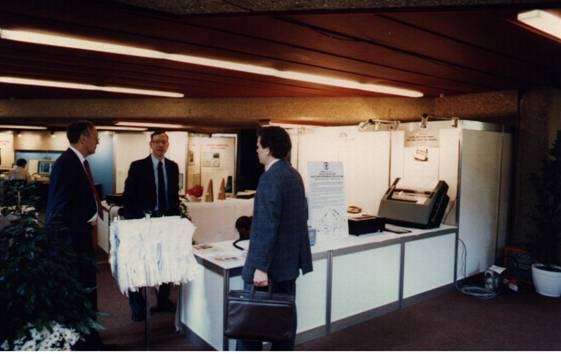 Walt and the same customer.  The guy on the left (Dick Thompson) for NOAA but was stationed at the WMO headquarters in Geneva.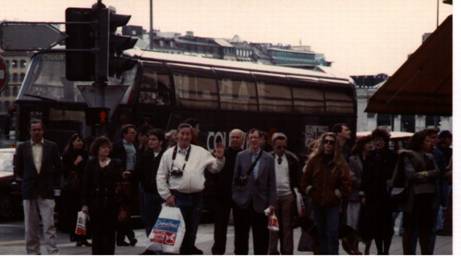 Scott and Walt touring in Geneva. Don Hall must have taken this photo.
Scott with our UK representative, who primarily covered Africa, at a military electronics show in Washington DC.  Kevin O'Reilly took the picture for me.  I think Fred Simpkins was also at the show.  We were showing off the 9315TRT with the military travel case and antenna kit.

This is the Alfax location in Hogsworth England.  Actually I think it's in Epsom Downs.  The head of Alfax UK, Geoff Striker and Dick Boire are at the door.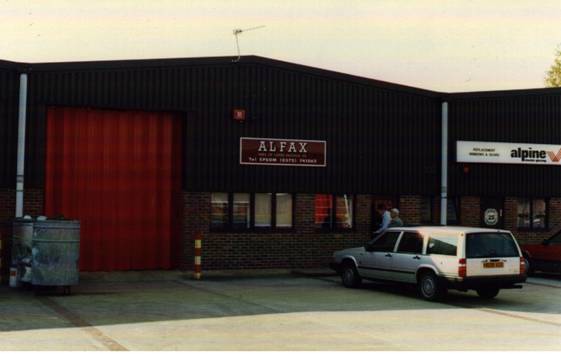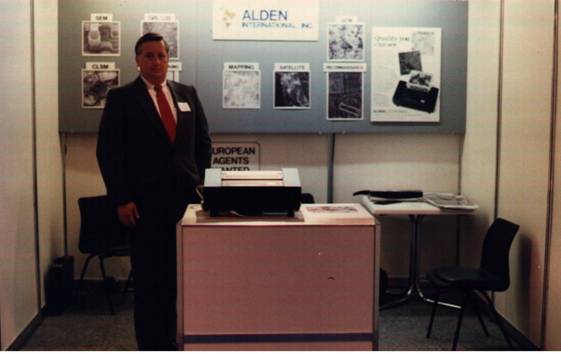 Yours truly showing off the 9315CTP at the Image Processing 91 show in Birmingham England.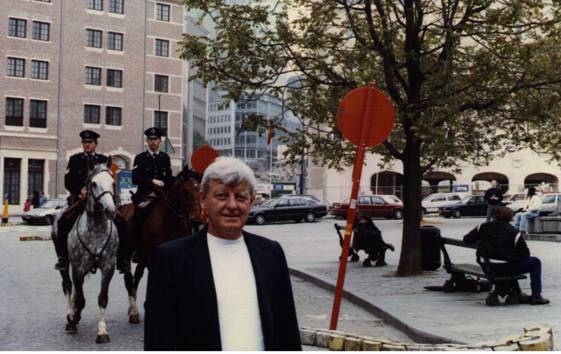 Dick Boire touring in Brussels.